Research and Development
---

Favor union has 25 years experience on design and producing of potentiometers, encoders, switches, Favor union's producing capabilities from R&D, molding, stamping/injection to product assembly,has achieved a complete vertical integration in the field.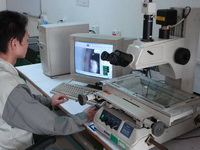 The company has four major R&D(research&development) Dept ,and more than forty core R&D engineers, Through then let us to utilize the ingenuity of them to meet the continuing technological demand for products with higher accuracy,long life and better reliability.

Our technical support teams can provide you with solutions appropriately selected and precisely manufactured to satisfy your requirements for performance,cost and availability.


Related technical documents:
Conflict Minerals Statement

Potentiometer Terms explanation

Measurement and testing methods

Causion of using

Causion of using and Explanation of Terms for Encoder

Our Patents:
Joystick
Hign Precision 3D Joystick Potentiometer Input Devic

e

2014/3/21
Patent number:201410107082.X
 
This invention is covered a joystick input mechanism technique. Especially it is included high precision testing Mold 3D swiveling input mechanism. This input is covered two mutual autonomies, which are up and down rocker elastic mechanisms. They wouldn't influence each other when they start to work. This technique can avoid minute error signals and provide high-precision output. Besides, according to this technique, it includes autonomic rocker leasitc mechanism, This product conformed with ergonomics.
An easy manipulation 3D joystick Input Mechanis

m

2014/1/6

Patent number:201420005703.9

 
This is an easy manipulation 3D swiveling input mechanism. There is a set of spring coils at the bottom of the device. The set of the spring coils is settled on a sliding base. This sliding base can be moved vertical. This invention makes the 3D
A thin 3D Swiveling Input Mechanis

m

2014/1/6
Patent number: 201420005625.2
 
This thin film model device is face at the bottom of the convexity of the rocker. By punching the convexity, the rocker can move down. This setting is different from others control system, so this setting not only makes sure when the rocker move down smoothly but also products thinner guarantees.
An Electromagnetic Induction Rocke

r

2006/8/4
Patent number:200620062527.8
 
This rocker axle connects the substance, the fixed plate, the PCB, and the cup-shaped from up to down. At the bottom of the rocker, there is a spherical bushing bearing, the spherical side face to the fillister. There is a magnet inside. The substance and the fixed plate leave the space for the axle and the spherical bushing bearing to wagging. There is a circuit setting on the middle of the PCB. The function of the circuit is inducted hall effect of the magnetic field change and passed the change to an induction coil. Then induction coil is connected to the circuit and leaving the space between the magnetic field.
Variable Resistance joystic

k

2005/7/4
Patent number:200530062624.8
 
see as the illustration
A Device of Plane Displacement Sliding Handle Potentiometer with Switc

h

2005/7/12
Patent number:200520060994.2
 
The new plane displacemen sliding handle potentiometer with switch device has a sliding handle, a top main part and a main part, a resistor, a movable contact slice, a up and down slide plate, stent, an extension spring and leading-out terminal etc.
An Improved structure of 3D Swiveling Input Mechanis

m

2014/12/18
Patent number:201420797904.7
 
This improved structure of 3D swiveling input mechanism has three features: First, it is easy to reach the goal of accurate control. Second, it exports signals stable. Third, its construction is simple.

Slide

A linear sliding Variable Resisto

r

2014/6/25
Patent number: 201420030071.1
 
This variable resistor is made by flexible circuit board. The variable resistor is filled in injection molding with the main linear bearing in one piece. This one-piece structure can reduce errors and interferences.
Rotary
A Low Detention Variable Resisto

r

2014/1/18
Patent number:201420030072.6
 
This item composed a terminal and a resistance in one piece. The residuale resistance is remarkably low. It is using flexible PCB for the element. In the assembling process, the terminals will be place on the flexible PCB for plastic molding to fix. therefore there is no need to riveting and will not have short circuit or circuit breaker. During the process of the production, it can reduce the short circuited rate and more efficiently.?
A Rotary Variable Resisto

r

2014/1/18
Patent number:201420030070.7
 
The special construction of this rotary variable resistor can produce a click when each rotation. By installing the click plate and the rotary base, when user rotate the shaft for a specific angles, the rotary base will get a click feeling and the position will be fixed. Therefore, not only providing the continuous resistance change, it is convenient to users to know how many angles that they rotated already turned.
A Magnetic Induction Rotatable Input Devic

e

2014/12/17
Patent number:201420798218.1
 
This include a main part and a case with a hole on top of it and also include a turn-able rotary pole and a bush holding the pole. When using, by turning the pole, the magnent inside is turned and change the magnetic filed is changed also. Therefore the sensor IC will get the signal and provide designed output. this device has stable output and simple structure advantage.
A thin type variable resistor with push butto

n

2005/7/12
Patent number:200520060993.8
 
This sturcture include a element, resistor plate, button, touch plate, metal flip plate, frame, rotary button and output terminal. By integrating the push button on the variable resistor, it saved the space and material for another single electronic switch.